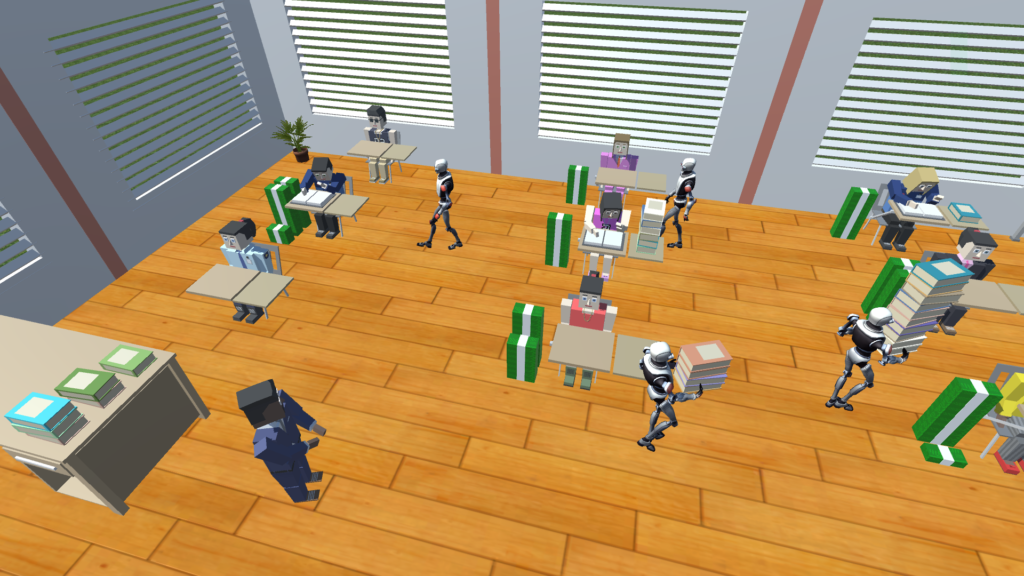 The newly built school needs a hardworking teacher.
Schools are opening. We need a teacher in our new academic year. He has to be a smart and strong teacher who will carry lots of books to his students.
As students read books, their families will give money to the school. We have to improve the school by collecting these coins. Various methods of making money are available within the school. As the game progresses, we should aim to open the upper classes and earn more money.
There are robot teachers in every classroom in the game. When you activate these robots, they will carry the automatically produced books to the hardworking students. You can also develop robots.
There is an ATM belonging to that class in each class. If you get tired of collecting money, activate the ATM system. When the ATM becomes active, the families will send the money to you by the ATM.
You can also improve yourself at school. You can customize classes. You can custom develop event classes.
There is a chest in the cleaning room in the game. This chest is encrypted by the manager. Numbers are written in various parts of the school. By combining these numbers, you can open the chest and get your reward.
The game is designed in simulation style and developed in a simple system. Our aim is to make students study and earn money. Built on a large area, the school consists of 30 rooms in total.
There is no time limit or material restriction in the game. The game is presented with free mode. You will only need enough in-game currency to unlock new classes. In order to earn in-game money, it will be enough for students to carry books.
It is a modern casual style school simulation game.
School Features
+23 classes
+6 different event classes
+A secret chest
+50+ types of students
+5 Upgrade variants
+Robot
+ATM
+Enhancements
Play Store Link : https://play.google.com/store/apps/details?id=com.CakiGames.MoneySchoolSimulator